This site uses Flash animations. If you don't see them, click here to install Flash Player.

Production Team 2003
You've read about the production team elsewhere in this Website, but just who are these people? We aim to solve the mystery right here on this very page - with our Production Team photo line-up!
Unfortunately, some of the Team members are missing (they heard about the line-up photo!), but most are here for your enjoyment...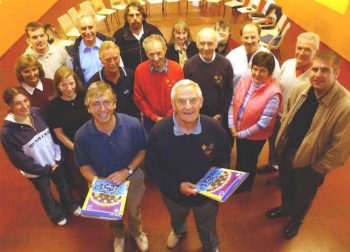 View the photo view full size.

Front row, left to right
Iain MacDonald
Convenor & Associate Producer
Derek Gardiner
Producer

Middle row, left to right
Gemma Giubarelli
Asst Dance Director
Fiona Riddell
Dance Director
Benny Green
Asst Musical Director
John Gordon
Box Office
Matt Smith
Publicity
Helen Fraser
Wardrobe
Iain Ross
Props

Back row, left to right
Iris Perrin
Wardrobe
Stephen Maddison
Registrar & Props
Robert Preece
Front of House
Allen Perrin
Asst Convenor
Heather Preece
Asst Convenor
Iris Mackenzie
Continuity
Keith Pratt
Asst Convenor
Gordon Duncan
Stage Director

The 2003 Anniversary Show.


(Not) in the Spotlight Feature.


Production Teams 1983-1993.


Production Teams 1995-2005.